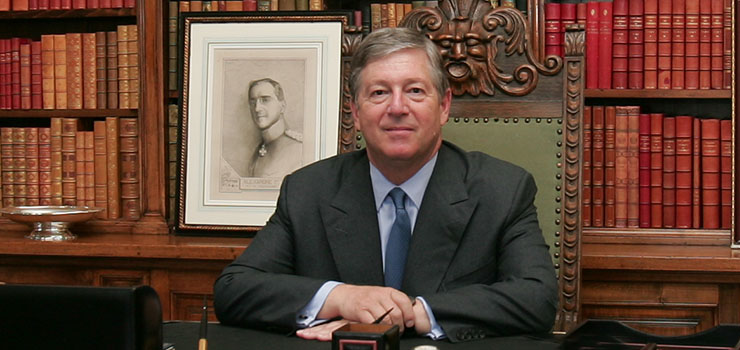 In 1944,HM King Peter II in London married Princess Alexandra of Greece and Denmark, the daughter of HM King Alexander of the Hellenes and Aspasia Manos.On 17 July 1945 while living in Claridge's Hotel, Queen Alexandra gave birth to a son – HRH Crown Prince Alexander of Yugoslavia.
Crown Prince Alexander, the heir to the throne, was born on Yugoslav territory as the British Government under the orders of Prime Minister Sir Winston Churchill declared suite 212 in Claridge's Hotel Yugoslav territory. His Holiness Patriarch Gavrilo of Serbia baptized the new born Crown Prince in Westminster Abbey with Godparents King George VI and HM Queen Elizabeth II.
After the war, King Peter II was illegally prevented from returning to his country by the communist regime, which had seized power in Belgrade. HM King Peter never abdicated. The King and Queen lived in exile in many countries (United States, France, Italy and England).
HRH Crown Prince Alexander was educated at Trinity School (New York City, United States), Marie-José (Switzerland), Le Rosey (Switzerland), Culver Military Academy (Indiana, United States), Gordonstoun School (Scotland) and Millfield (England). He subsequently went to the British Royal Military Academy and in 1966 was commissioned an officer in the British Army. Crown Prince Alexander served in the 16th/5th The Queen's Royal Lancers rising to the rank of captain. His tours of duty included West Germany, Italy, Middle East and Northern Ireland. After leaving the army in 1972, Crown Prince Alexander II, who speaks several languages, pursued a career in international business.
Although King Peter II died in 1970, the Crown Prince, as the heir to the throne decided at the time not to use the title of King – which he felt would have had little meaning in exile. He made it very clear at that time that he was not renouncing his title, or the dynastic right to the throne.
In 1991 Crown Prince Alexander accompanied by Their Royal Highnesses Crown Princess Katherine, Prince Peter, Hereditary Prince Philip and Prince Alexander travelled to Belgrade where they were very enthusiastically received by hundreds of thousands of people who see the Crown Prince as the embodiment of all that is best for democracy and Constitutional Parliamentary Monarchy.
Before the 5 October 2000 revolution in Serbia, the Crown Prince visited Serbia in 1992, 1995 and 2000. The Crown Prince travelled to Montenegro and Kosovo in 1999 and Bosnia and Montenegro in 2000. The Crown Prince and his family have been living in The Royal Palace in Belgrade since 17 July 2001.
HRH Crown Prince Alexander has always been a very ardent defender of democracy and human rights. In 1989, he took a very active role in helping his people shake off the legacy of decades of dictatorship and the regime. During the next decade the Crown Prince Alexander conducted numerous meetings and maintained constant contact with the democratic opposition and democrats throughout the former Yugoslavia. In November 1999, Crown Prince Alexander convened a large conference in Budapest for the representatives of the Democratic Opposition in Serbia.
Another symposium followed in Bosnia in January 2000 and in April 2000 the Crown Prince convened a large conference of key opposition leaders in Athens. Following the Athens conference the Crown Prince and leaders of the opposition went to a symposium at Harvard Kennedy School of Government. These meetings led to the successful election victory of Serbia's democratic opposition in September of that year. Crown Prince Alexander has been a tireless contributor in the process of co-operation and unity amongst the democratic political parties to make his homeland a great democracy for all citizens regardless of political belief, religion or ethnic origin.
During the previous decade Crown Prince travelled extensively, met with numerous world leaders, politicians, parliamentarians, world bodies and had many interviews to the media.
In 1972, His Royal Highness Crown Prince Alexander married Her Imperial and Royal Highness Princess Maria da Gloria of Orleans and Bragança of the Imperial Family of Brazil in Villamanrique de la Condesa, Spain. They had three children. The eldest son HRH Prince Peter was born in 1980 in Chicago, Illinois; and fraternal twin sons HRH Hereditary Prince Philip and HRH Prince Alexander were born in 1982 in Fairfax, Virginia. The marriage ended in 1983.
In 1985, Crown Prince Alexander married Katherine Batis of Athens. HM King Constantine of the Hellenes was the best man and HRH Prince Tomislav, the uncle of Crown Prince Alexander was the witness. The wedding took place in the Serbian Orthodox Cathedral in London.
On 15 May 2015 His Royal Highness Crown Prince Alexander received the highest French order, Legion d'Honneur Commander Rank, by a Decree of the President of Republic of France.
The Crown Prince and his family have been living in The Royal Palace in Belgrade since 17 July 2001.The Royal Compound consists of two palaces the Royal Palace and the White Palace and is still confiscated private property. However, Crown Prince Alexander is allowed to live there under difficult conditions.
HRH Crown Prince Alexander enjoys skiing, sailing, water skiing, scuba diving and tennis. He was British Army Ski Champion in 1972. His other interests include music, theatre, information technology, and current affairs.